Suzhou Pioneer Material Handling Equipment & Technology Co., Ltd is a professional manufacturer of warehousing material handling equipment. Over the past 15 years, working closely together with many college academies and scientific institutions, we have been committed to independent research and development in the fields of hi-tech and energy saving so that we can better satisfy today's market trends. As indicated by our brand of Zowell meaning "outstanding quality, industry leader", we have been sparing no effort to manufacture high-quality products and provide perfect services for our clients worldwide.
Our Zowell material handling equipment can be used in a wide variety of fields, like manufacture, logistics, packaging, warehousing, and many other industrial processes, especially in industries such as beverage, food, clothing, paper, medicine, new energy, automobile and motorcycle, plastics injection, and more. We have built up complete sales network in China, and cooperative relationships with clients in as many as 40 countries and districts. Now we are still looking forward to establishing cooperative relationship with more clients all over the world. OEM service is also available.
Products:
1.Electrical Pallet Truck:
Our electrical pallet truck can be widely used in various fields to move groups of goods or products from one place to another in the purpose of delivery and dispatch.
2.Electric Stacker:
Electric stacker, also known as forklift stacker, pallet stacker, lifter, or pallet jack, is designed for indoor horizontal and vertical material handling. It is used to safely lift and move pallets.
3.Electric Reach Truck:
Electric reach truck, also known as reach forklift, reach stacker, reach pallet stacker, reach lifter, or reach pallet jack, is designed for indoor horizontal and vertical material handling. It is used to safely lift and move pallets.
4.Electric Tow Tractor:
Our electric tow tractor is the right solution for towing loads in many places like airports, railway station, factories, warehouses, logistic center and so on. They can be designed to hitch up to customer's existing trolleys and bins.
5.Scissor Lift:
Our scissor lift, also referred to as elevated work platform, is mainly used to provide temporary access for contractors to high and inaccessible places on various working sites like decoration, maintenance, construction work, goods transportation, or some other places.
6.Aerial Order Picker:
Our aerial order picker is perfect solution for picking orders and loading onto the lift.
7.Manual Warehouse Equipment:
Our manual warehouse equipment include hand pallet truck, hand stacker, hand hydraulic table truck and hand scissor lift table.
8.Customized Truck:
We provide special solutions to meet different requirements of clients. And our customized trucks mainly include electric tooling carrier, electric towing head, electric reach stacker with tilting forks, electric reach truck with wider fork carriage, electric stacker with ultra low-height mast, semi electric roll stacker, etc. Specific machines will be manufactured according to needs of our customers.
Annual Output:
1. Electric Reach Truck: 300pcs
2. Electric Stacker: 1000pcs
3. Electric Reach Stacker: 1000pcs
4. Electric Straddle Stacker: 400pcs
5. Electric Pallet Truck: 800pcs
6. Electric Tow Tractor: 500pcs
R&D Team:
Besides our own R&D team, we also have established cooperation relationship with many first-class engineering universities in China. Therefore, we are capable of obtaining additional engineering supports to our high-quality products.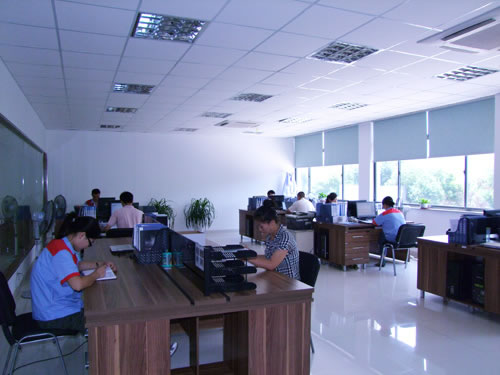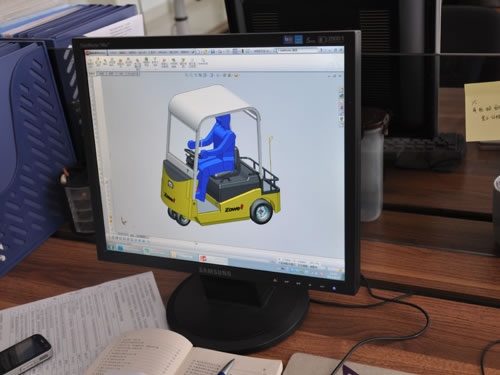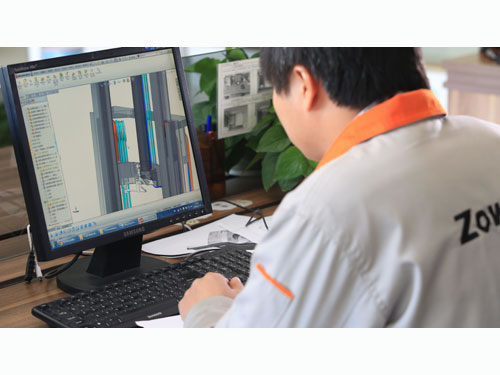 Quality Control:
Our R&D team has more than experienced 15 engineers, and with the assistance of advanced equipment, our experienced engineers and technicians strictly control the quality of each production process. Strict quality control system has been implemented in each production procedure: imported key components are used to ensure high quality; advanced equipment is employed for examining and control quality; every product is carefully tested before shipment; and all the quality complaints and improvement suggestions will be seriously studied and then put into practice immediately. We have comprehensive monitoring system for the construction design process. In such way, we can not only control our costs, but also ensure the high quality of our products. As a result, all of our products have passed the CE certification.
Cost Control:
First, over 70% of our product costs have been fixed by its construction design, so we need to carry out comprehensive monitoring on construction design process. In this way, we can not only control the costs, but also ensure the high quality of our products. We carefully design the construction and rationally allocate resources to avoid unnecessary repetitive work. As a result, we can save much manpower and material resources, thus reducing our costs.
Then we have established a good information system to keep in touch with the moving trends of material price in the market. By continuously improving our purchase management and raw material monitoring, we have effectively controlled the costs of our products.
Service:
We offer excellent pre-sales, sales and after-sales services for customers throughout the world.
1.Our 24 hours' reply guarantee can ensure customers the most cost-efficient products.
2.We can respond to various requests from clients within 24 hours, thus saving your time and efforts.
3.The actual delivery date is always the same as the date we have agreed.
4.Customized truck is always available so as to satisfy various requirements from customers.
5.OEM and ODM services are welcome.
6.Except easily damaged parts,Our warranty for fully electric products is 12 months or 1000 hours whichever comes first.
Technological Advantages:
As a professional manufacturer of warehouse material handling equipment, we can provide machines with technological advantages as follows:
1.Outstanding design: European outline and side battery extraction design makes it very convenient to replace and maintain batteries. The mast and frame are detachable and exchangeable. The multi-function display has been designed: battery power, fault code and hour meter. Emergency reverse device in the handle improves operation safety degree. Built-in pressure relief valve protects trucks from overloading, and meanwhile, its reliability is also increased. The braking system, applied with handle upright and horizontal position, increase the safety of trucks. And emergency power disconnect switch is also applied.
2.Good quality: the key components of our products are imported, like Germany Mannstaedt forklift profile for mast construction, Germany FREI operation handle, Italian HYDR-AP hydraulic pump, CURTIS or Zapi Electronic Controller, etc. And our traction battery, transmission chain and driving wheel are also first-class products from China.
3.Competitive price: Located in China—the world factory, we can provide best products at the lowest price.
4.Better services: we're capable of replying all emails or requests within 24 hours.
Because of the continuously growing awareness of environmental protection around the world, low-carbon pursuit has been the new global economic trend. So in the material handling equipment industry, electric material handling equipment has been replacing the traditional internal combustion forklifts. To better keep touch with the new economic trend, Zowell has been engaged in the green and harmonious development, and concentrated on the electric material handling research, in which way we believe we will give more various advantages to our products.
Related Products